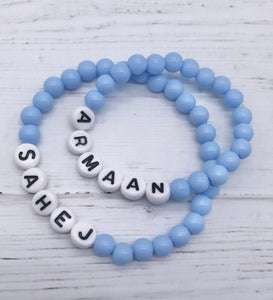 Product Description

This simple and elegant baby blue personalised bracelet makes the perfect gift. The colours we have chosen for the beads are so soft and delicate. Please enter details of the personalised 'name' or 'word' in the box provided.

Approx Sizes:
3 - 6 years - 5.5 inches
7 - 10 years - 6 inches
Teen to Small Adult - 6.5 inches
Large Adult - 7 inches
How to measure your bracelet size:
1. Use a flexible measuring tape or a piece of string and gently wrap it around the adult's / child's wrist just below the wrist bone.
2. Take note of the measurement if using a measuring tape or cut the string to the desired size and lay the string out straight and measure it using a ruler. 
If you would like a smaller / larger bracelet made, please leave us a message at checkout. 
This bracelet has been made with pastel acrylic beads and clear elastic that is very stretchy.

Safety warning - All bracelets must only be worn under adult supervision due to small parts. Please ensure that children are not left unattended whilst wearing them and that they are removed when children are sleeping. Buyer assumes responsibility.